Shop information


Patisserie QBG was born to deliver the charms of
the natural sweetener, honey and maple.
Our mission is to fully express and emphasis
the tastefulness of ingredients from the nature.
With our tradition and history,
we will continue delivering the taste of the true nature,
products to make everyone smile and happier.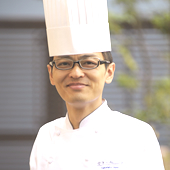 Takahiro Sato
Born in Gunma, 1972
The prize winner of ' Andre Lecomte Cup' in 2012
He has worked for ' Nicholas', ' hana-mizuki', ' Ygrec Hiroo',
went abroad and worked for ' Sutore' ' Maison Fuiyo', in Paris,
'Le Daniel' in Rennes, 'Patisserie La Fille' in Paris.
He returned to Japan and worked for ' Patisserie Planets'
from 2004 as their chef.
He's a chef of Patisserie QBG from July 2012.

Patisserie QBG
Takanawa, Minato-ku, Tokyo 3-26-27
In"ecute Shinagawa",JR East Shinagawa station

[Weekdays and Saturdays ] 08:00 to 22:00
[Sundays and public holidays] 8:00 to 20:30

03-3441-4183
patisserie QBG Tsukiji
Tokyo Tsukiji, Chuoh-ku, 4-5-4
Tsukiji Shirokuma building

Weekdays 10:00 to 18:00
Saturday, Sunday and holidays] Closed

03-6278-8216
保存